Brazil is big business!
…and the State of São Paulo is a country on its own.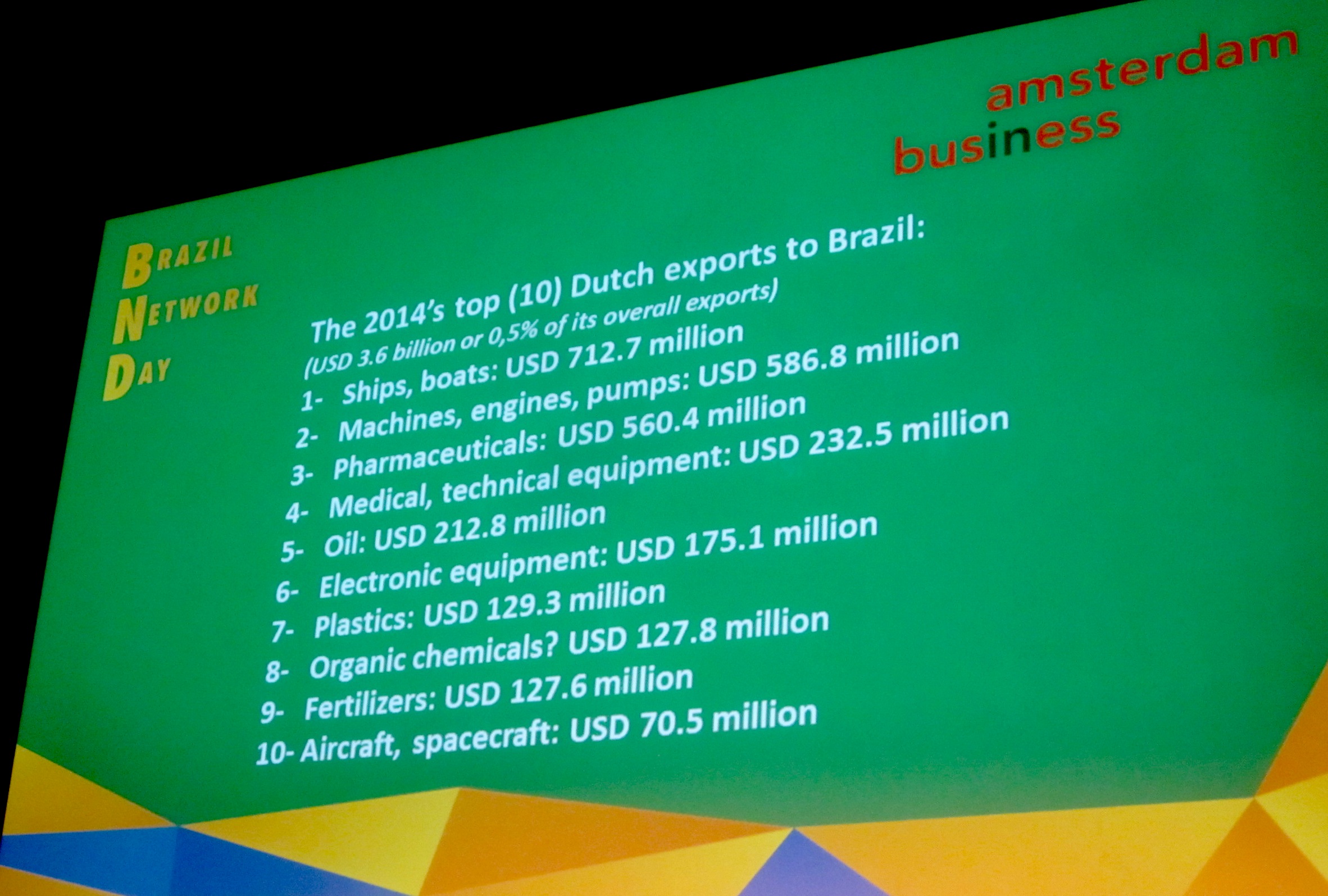 The 8th edition of Brazil Network Day took place in the Amsterdam Arena on April 8th, 2015.
This edition of BND  attracted hundreds of businessmen, both Dutch and Brazilian and was organized by the Brazilian Embassy in The Hague., in partnership with Amsterdam in Business, Rabobank, Meijburg & Co. , Baker & McKenzie, Intertrust Group and The Dutch-Brazilian Chamber of Commerce. The main goal of the event is to gather Governmental officials, representatives of Brazilian and Dutch multinationals and local entrepreneurs doing or considering doing business and/or investing in Brazil. This goal was certainly reached.
The event's plenary session was kicked off by an opening speech by the Brazilian Ambassador in The Netherlands, Mr. Piragibe Tarragô, in which Mr Tarragô openly addressed the new economic challenges facing Brazil in 2015.
Mr. Tarragô's speech was followed by an impressive video presentation produced by Investe São Paulo. Investe São Paulo is an investment promotion agency that helps and guides foreign investors aiming to establish or develop their business activities in the State of São Paulo. The agency was represented in the event by its Managing Director, Mr. Sérgio Rodrigues Costa. In his speech, Mr. Costa highlighted some of the characteristics that make the State of São Paulo Brazil's economic powerhouse, (responsible for 33% of the country's GDP) and explained what the agency can do for foreign investors in the State. After his speech, Mr Costa took questions from the audience.
Another honorary guest at the event was Mr.Vinicius de Almeida from the London office of Brazil's Development Bank BNDES. BNDES finances most of the infra-structure investments in Brazil and has a portfolio compared with that of the World Bank. Mr. de Almeida stressed the federal government commitment to prioritize investments in large infra-structure projects.
The plenary session went on with representatives from the different partners of Brazil Network Day presenting themselves and answering specific questions from the audience on different topics related to doing business in Brazil, such as tax and regulations, banking, and cultural differences.
After the plenary session, the audience had enough opportunity for networking amongst themselves and with the speakers during a cocktail.
The cocktail was opened by the Mayor of Amsterdam, Mr Eberhard van der Laan. The Mayor gave a brief and funny speech in which he praised Brazil and its people for their resilience, self-confidence and recent social development achievements in terms of fighting inequality and illiteracy.

The 9th edition of Brazil Network Day will take place in Rotterdam and will coincide with economic missions to The Netherlands of Brazil's two largest cities São Paulo and Rio de Janeiro. To keep posted on Brazil Networking Day events, join their LinkedIn group.